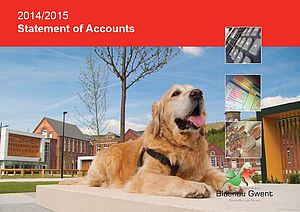 Statement of Accounts
The Council has a legal obligation to produce a 'Statement of Accounts' that sets out its transactions for the financial year and also its various balances at the year end. This provides important information regarding the stewardship of public money and assets, and how these have been used to provide local services in the past year.
The document is highly technical, reflecting the need to prepare accounts that comply with a broad range of legal requirements and accounting standards. This also reflects the need to provide relevant information to the various stakeholders of the Council – residents, electors, Councillors, Officers, debtors, creditors and various levels of Government.
Printed copies of the Accounts are available on request at the price of £29.20 per copy.
Statutory Notices
Gwent Archives Joint Committee
Related Documents
Contact Information
Ms. R. Hayden
Chief Officer – Resources
Telephone: 01495 355124
Email : Rhian.Hayden@blaenau-gwent.gov.uk
Mr. T. Hagland
Chief Accountant, Corporate Services
Telephone: 01495 355128