While we might not have a lot of accommodation in Blaenau Gwent, it's the quality that counts. The area offers a mix of small and friendly B&Bs, Inns with rooms, lakeside caravan & camp sites and chain lodges. Something for all tastes and all excellent value.
HOTELS
The Premier Inn Hotel Ebbw Vale
The Premier Inn Hotel Ebbw Vale puts you right on track to tackle the area's attractions. Immerse yourself in the rugged beauty of the valleys, discover the rich heritage of the local steel and mining industry or take the train direct to Cardiff city centre. Then take a well-earned rest in their spacious rooms and extra-comfy beds.
Premier Inn,
Victoria Business Park,
Waunlwyd,
Ebbw Vale,
Gwent,
NP23 8AN
Tel: 0870 8506378
Web: http://www.premierinn.com/
INNS
The Cambrian Inn
At The Cambrian Inn you will always be assured of a warm valleys welcome. A sympathetically restored historic inn in the centre of Tredegar, it continues to be at the heart of the community, serving fine food, real ale and good cheer as it has done for almost 300 years. The rooms are spacious with soft beds, fluffy towels, power showers and luxury furnishings. 4* graded by Visit Wales
1-2 Castle Street,
Tredegar,
Gwent ,
NP22 3DE
Tel: 01495 723319 / 07805024569
Email: info@cambriantredegar.co.uk
Web: www.cambriantredegar.co.uk
The Kings Arms
The Kings Arms is a traditional Inn with a great welcome. The refurbished rooms are great for business and tourist visitors. Located near the centre of Ebbw Vale, the rooms have views over the rugby ground and across the valley. 3* graded by Visit Wales.
Newchurch Road,
Newtown,
Ebbw Vale,
Gwent,
NP23 5BD
Tel: 01495 352822 / 07816558536
Email: paul@paulbowen1wanadoo.co.uk
The Castle Inn
Angela offers you a warm welcome at The Castle Inn. A delightful, traditional inn recently modernised whilst retaining original charm and features. Their young chef John, serves up a quality menu that changes seasonally. The Castle has 3 en-suite double/twin rooms for guests.
The Castle Inn,
Nant y Croft,
Rassau,
Ebbw Vale,
Gwent
NP23 5DA
Tel: 01495 302087
Email: angela.rossiter@aol.com
Coach and Horses Tredegar
The Coach and Horses is a friendly pub situated in a quiet, residential area of the historic town of Tredegar. Newly refurbished rooms with comfy beds and modern facilities.
Charles Street,
Tredegar,
Gwent,
NP22 4AE,
01495 446847
Tel: Amandaburrows65@icloud.com
Web: http://www.coachandhorsestredegar.com/
Llanhilleth Hotel
A traditional hotel, the focus of the community of Llanhilleth. Susan extends a warm homely welcome to all her guests. Refurbished rooms offering modern facilities.
High St,
Llanhilleth,
Abertillery,
Blaenau Gwent
NP13 2RB
Tel: 01495 214267
Email: susanwebber14@yahoo.co.uk
The Nags Head
A village pub with a great atmosphere, fine dining and cosy rooms to stay in. A great place to stay teamed with a chef taking good pub food to a new level.
Merthyr Road,
Tafarnaubach,
Tredegar
Gwent
NP22 3AP
Tel: 01495 722867
GUEST HOUSES
Roseland B&B
Roseland B&B is a refurbished gentleman's residence set in in its own landscaped grounds. The rooms have been beautifully restored to the highest quality ensuring modern facilities but without compromising the ambiance of this historical house. Susy extends that home from home welcome that keeps guests retuning. 4* graded by Visit Wales
Dukestown Road,
Dukestown,
Tredegar
Gwent,
NP22 4RE
Tel: 01495 722040
Email: SUSANROSELAND@aol.com
Soar Chapel Guest House
A warm welcome awaits you at this former Baptist Chapel which now serves as a luxury guest house. It has been lovingly restored by Lesley and Andrew, to a high standard of comfort and luxury. They offer a range of rooms (including disabled access and a children's cot if required) decorated to a fantastic standard, each with their own private and luxury bathroom and daily welcome tray offering; tea/coffee and freshly made Welsh cakes. There is also a separate guest lounge, breakfast/dining room. 4* graded by Visit Wales
Baptist Place,
Beaufort,
Ebbw Vale,
Gwent,
NP23 5JJ
01495 305154
Email: lesley_catalina@hotmail.co.uk
Web: http://www.soarchapel.co.uk

Ebbw Vale Guest House
Ebbw Vale Guest House assures you of a warm welcome in this traditional guest house. Offering guests a pleasant dining room and separate lounge with Satellite TV for your relaxation. Located 2 minutes' walk from the town centre with numerous café, restaurants and pubs.
 
Libanus Road,
Ebbw Vale,
Gwent,
NP23 6EJ
Tel: 01495 301044
Email: info@ebbwvaleguesthouse.co.uk
Web: http://www.ebbwvaleguesthouse.co.uk/
CARAVAN AND CAMP SITE
Parc Bryn Bach
Parc Bryn Bach has a 40 pitch caravan and camp site which is open all year round. Located on the lakeside and a few metres away from the park's visitor centre. The park offers a licensed restaurant, cycle hire, golf, and adventure activities.
3* graded by Visit Wales
Merthyr Road,
Tredegar,
Gwent,
NP22 3AY
Tel: 01495 355920
Email: parcbrynbach@blaenau-gwent.gov.uk
Web: http://parcbrynbach.co.uk/
SELF CATERING
Aderyn Bach Cottage
Aderyn Bach Cottage is one of a row of stone cottages, deceptively spacious inside. It has a homely cottage décor but with the usual modern conveniences. The property has a double and 2 twin bedrooms with a bed settee option in the lounge for extra capacity. A secure garage for off road parking and secure cycle storage.
30 Railway Terrace,
Blaina,
Gwent,
NP13 3BU
01495 321483
Email: candlish765@btinternet.com


The Castle Lodge
The Castle Lodge offers 4 modern, well equipped apartments sleeping 4, 6 or 10 guests.
Castle Street,
Tredegar,
Gwent,
NP22 3DF
Tel: 020 3564 5165
Cosy Dragons
Two 3-Bedroom well equipped holiday homes in a semi-rural location for the perfect leisure or business break,
Email: Cosy Dragon @Tanglewood 1
Email: Cosy Dragon @Tanglewood 2
Ruby's Cottage
A traditional miners' cottage in the heart of Abertillery offering comfortable 2 bedroom accommodation for 3 people.
Tel: 0033 553 63 03 89
Web: http://rubyscottage.wales/
Email: rubyscottage@orange.fr
Russinda
This delightful property provides luxury accommodation in an annex to a cottage nestling in the Ebbw Fach valley. The unit comprises of a spacious bed sit and bathroom. A Continental breakfast is supplied. The room has its own private patio with beautiful views of garden and the hillside beyond. Secure cycle storage is also available. Conveniently suited on the Ebbw Fach Trail.
156 High Street,
Blaina,
Gwent,
NP13 3AW
Email: lindilou33@aol.com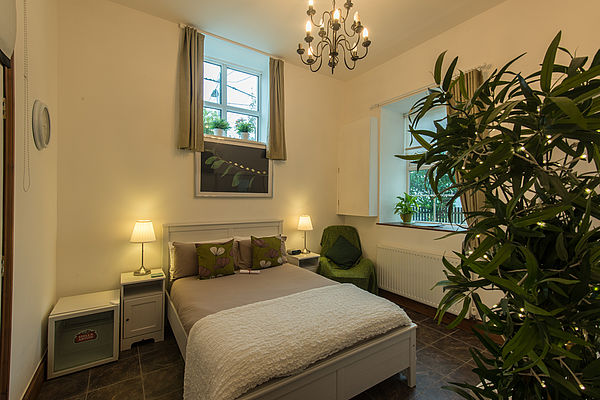 A bedroom at Soar Chapel, Beaufort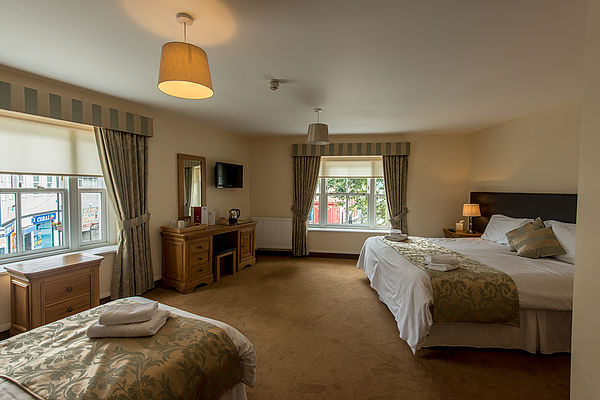 Guest Bedroom at The Cambrian, Tredegar
Contact Information
Name of Team: Economic Development
Telephone Number: 01495 355937 or 07968 472812
Address: The General Offices, Steelworks Road, Ebbw Vale, Blaenau Gwent. NP23 6DN  
Email Address: alyson.tippings@blaenau-gwent.gov.uk