Browsing Around 
There's nothing better than spending an afternoon, browsing around shops and stopping of for a cuppa and a bite to eat. If this fits the bill, then Blaenau Gwent is the place for you. The towns of Tredegar, Ebbw Vale, Brynmawr and Abertillery are great little places to explore with chain retailers, independent shops and friendly cafes. You never know what you'll stumble across, trendy nail bars, delightful gift shops or even Dr Who's jeweller – they are all out there awaiting you.
Abertillery 
The town nestles in a wooded valley where shoppers can explore the network of streets. Abertillery has a well preserved Victorian arcade linking High Street and Commercial Street.  A market visits the town every Thursday.
St Michael's church dominates the heart of the town and visitors may also spend some time exploring exhibits in Abertillery Local History Museum. Visitors may also visit the nearby Cwmtillery Lakes, Guardian – Six Bells Mining Memorial or St Illtyds Church.
Blaina
This small and friendly town is focussed around the High Street. In addition to the local shops and cafes are a local history museum based in Blaina Institute and The Chartist Centre in Salem chapel.
Brynmawr
Brynmawr holds the distinction of being the highest market town in the UK. Market Square at the heart of the town contains the town's War Memorial and Market Hall Cinema and museum. The main shopping streets cluster around the square containing a wide selection of retailers. Brynmawr market is held every Saturday morning.
Ebbw Vale 
Shopping is located in the town centre along the main street and at the adjacent The Walk shopping development. The main street is dominated by two Stainless steel sculptures, one a modern town clock and the other a dragon. The town is served by a rail link to Cardiff that connects to the town centre by a Cableway and holds a large market every Friday.
The Festival Park has leisure attractions including the UK's longest Supertubing run, the region's largest adventure play castle and an Owl Sanctuary.
Visitors to Ebbw Vale may also visit The General Offices that contain Gwent Archives and Ebbw Vale Works Museum and Silent Valley Nature Reserve.
Tredegar 
The town is dominated by the world famous Town Clock that sits in the heart of The Circle.
The town centre shops run along Commercial Street, Castle Street and in the Gwent Shopping Centre. Tredegar is a great browsing town with many gift shops, restaurants and cafes.
Just down from the Clock is Bedwellty House and Park, a true jewel in the valleys. If Ebbw Vale is a town of 2 shopping centres then Tredegar is a town of 2 parks, the other Parc Bryn Bach, a country park to the north of the town. Visitors may also wish to visit the Tredegar Local History Museum in The Circle, Sirhowy Ironworks or the Aneurin Bevan Memorial Stones.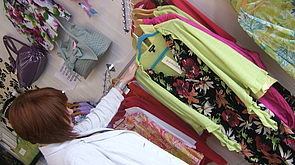 Shopping in Pebbles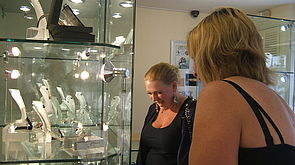 Shopping in Gemtime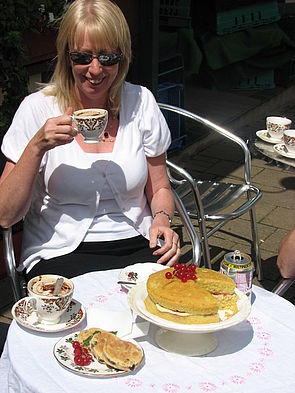 Abertillery Cafe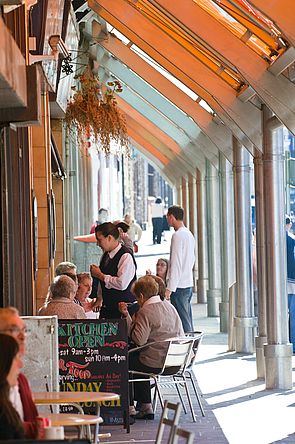 Ebbw Vale Canopy
Contact Information
Economic Development
Telephone Number: 01495 355937 or 07968 472812
Address: The General Offices, Steelworks Road, Ebbw Vale, Blaenau Gwent. NP23 6DN  
Email Address: alyson.tippings@blaenau-gwent.gov.uk