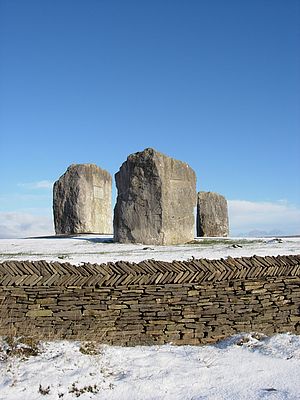 Nye Bevan Stones in the snow
The stones mark the spot where Aneurin Bevan, Labour MP and architect of the National Health Service, addressed his constituents and the world. The hillside location saw enormous gatherings eager to hear one of the greatest orators ever. The central monolith represents Bevan and the 3 smaller ones represent Rhymney, Tredegar and Ebbw Vale, the 3 towns in his constituency.
 The stones also mark the start of the Sirhowy Valley Walk. A film telling the story of Bevan's life and his battle with public speaking can be viewed at Bedwellty House. 
The House is also the starting point for the Aneurin Bevan Trail that takes in sites associated with Nye.
Contact Information
Name of Team: Economic Development
Telephone Number: 01495 355937 or 07968 472812
Address: The General Offices, Steelworks Road, Ebbw Vale, Blaenau Gwent. NP23 6DN 
Email Address: alyson.tippings@blaenau-gwent.gov.uk