The UK Government announced 2 new schemes to help those fleeing the war in Ukraine.​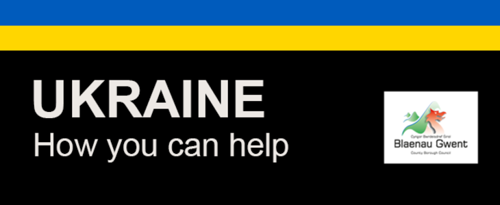 Apply for a Ukraine Family Scheme visa​
This scheme is to help people fleeing Ukraine to come and join a UK-based family member or extend their stay in the UK.
Learn more about the Ukraine family scheme visa​​ ​​​​​​​​​​
​Register for Homes for Ukraine scheme
Through this scheme, you can help someone fleeing Ukraine by sponsoring and hosting them in your home.
Learn more about the Homes for Ukraine scheme
Other ways to help
If you want to help but cannot offer accommodation, you can donate to the Disasters Emergency Committee ​​​​​​​​​​​​
This group of charities work on the ground in Ukraine and neighbouring countries to provide essentials, including food, water, shelter and medical assistance.
We are currently not taking donations of clothes or other goods.
Thanks to all residents and communities across Blaenau Gwent for all their generosity and support.
You can also find out about a number of schemes set up to help support those affected by calling the UK helpline number on 0808 175 1508.
A fund has been set up which Community groups can bid for a grant of up to £10,000
Nation of Sanctuary Croeso Fund - Community Foundation Wales
For further guidance and information on Ukraine support for people affected visit:
https://gov.wales/ukraine-support-people-affected
Businesses and organisations can also now register offers of help and support to Ukrainian people seeking sanctuary in Wales through the Welsh Government website.
This link is only for Businesses and organisations to register their offers of support, not for individuals.
British Red Cross Ukraine Crisis Appeal
​​The Russian attack on Ukraine has caused the displacement of many tens of thousands of Ukrainian people from their homes and marked the onset of what could be the largest humanitarian crisis in Europe for decades.

The British Red Cross has launched an emergency fundraising appeal in response to the fighting in Ukraine.

The priority now is to help the people access clean water, health care, and psychosocial support.

The Ukrainian Red Cross Society and the International Committee of the Red Cross (ICRC) have been working hand in hand with affected communities to respond to the vast humanitarian needs caused by almost eight years of conflict.

A donation to the British Red Cross Ukraine Crisis Appeal would mean that more people in desperate need are reached.

Your donation could help someone affected get:
food
water
first aid
medicines
warm clothes
shelter​
You can make a donation at the Red Cross Ukraine Appeal Website​​​​​​​​​​​​.