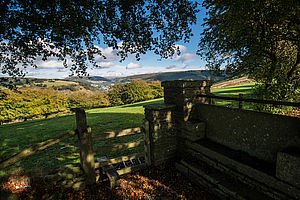 Ebbw Valley
A breath of fresh air 
Blaenau Gwent is located on the fringe of the Brecon Beacons and covers the Ebbw Fach, Ebbw Fawr and Sirhowy valleys. The rollercoaster landscape is great to explore on foot offering amazing views. It also has a long and proud history, each town and village has many stories to tell and glimpses into this past can still be explored. 
There are a number of trails revealing this heritage through fact, fiction, legends, folklore and local history. 
If it's a while since you've been to the valleys, it's about time you visited again. The only remaining coal tips are conservation sites and hillsides are green again. This is great walking country with loads of trails following old tram roads and winding tracks straight to the mountain tops. 
Some of our favourite walks are gentle strolls along old tram roads following in the footsteps of iron makers from centuries ago. The more energetic may prefer a brisk hike to the valley tops where the views are just as breath taking as the walk. You'll never know what you'll find around the next corner from a medieval church, a relic form our industrial past or a peaceful Nature Reserve. The valleys are littered with heritage and beauty, come and explore for yourselves.
Related Documents
Contact Information
Name of Team: Economic Development
Telephone Number: 01495 355937 or 07968 472812
Address: The General Offices, Steelworks Road, Ebbw Vale, Blaenau Gwent. NP23 6DN  
Email Address: alyson.tippings@blaenau-gwent.gov.uk