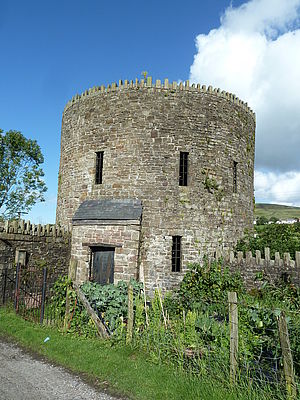 Nantyglo Roundhouses
The Nantyglo Roundhouse complex is a unique relic of the Industrial Revolution.  It was built in about 1816 by Joseph and Crawshay Bailey, the Ironmasters of the Nantyglo Ironworks, as a defended refuge against armed revolt by their workforce.  In effect, it was the last private castle built in Britain.  
 No other site in Wales gives so stark a reminder of the bitter conflict between Ironmasters and workforce.  The towers symbolise the social upheaval which gave birth to the Chartist Insurrection and which would eventually create the modern Labour movement.  
 The Nantyglo Roundhouses and the associated agricultural range are Grade II* listed buildings. The site is privately owned but can be viewed from the road.
Contact Information
Name of Team: Economic Development
Telephone Number: 01495 355937 or 07968 472812
Address: The General Offices, Steelworks Road, Ebbw Vale, Blaenau Gwent. NP23 6DN  
Email Address: alyson.tippings@blaenau-gwent.gov.uk