The last few years have been a difficult time for businesses, especially those who want to start a new venture. The impact of the Covid pandemic, the changing shopping habits along with the shift to online shopping have all challenged Town Centres. Encouraging new businesses into the Town Centre has proven difficult resulting in vacancies.
One Government-led initiative to encourage the temporary occupation of vacant shops in Town Centre's is a scheme called Meanwhile Use. The Meanwhile Use Scheme provides new businesses with financial assistance allowing them the opportunity to take on a tenancy and test trade the market without having to commit to long term or expensive rental contracts. Meanwhile uses can assist in the regeneration of a Town, Tillery Animal Health is one of the businesses who has taken part in this scheme.
Siobhan owner of Tillery Animal Health said:
"As a result of being made redundant in my previous role as a Veterinary Pharmaceutical Representative, I decided to utilise my animal health advisor qualifications and open a business selling animal medicines, feeds, treats, and toys.
I initially started at home and quickly progressed to a local market stall. It was at this time I spoke to the Town Centre Development Officer about my aspiration of having my own premises and she told me about the 'meanwhile' scheme, which could provide financial support allowing me the opportunity to rent a small premises within Abertillery Arcade.
This was the help that I needed to allow me to make the leap from trading at home into running my own shop, within a short time I outgrew the shop and have moved into larger premises. This has allowed me to extend my product range with now includes country wear, equestrian clothing and aquatics equipment.
I have been overwhelmed by the support from local residents who have become valued customers."
Councillor John C Morgan, Cabinet Member for Place and Regeneration said:
"The scheme aims to support a wide variety of businesses, providing business owners with a low risk trading opportunity in the Town Centre. It is a true example of partnership work which reduces vacant properties and increases the variety of goods and services to the community."
If you would like further information about the Meanwhile Programme please contact:
Karen Williams on 07790 545307 or email: regeneration-projects@blaenau-gwent.gov.uk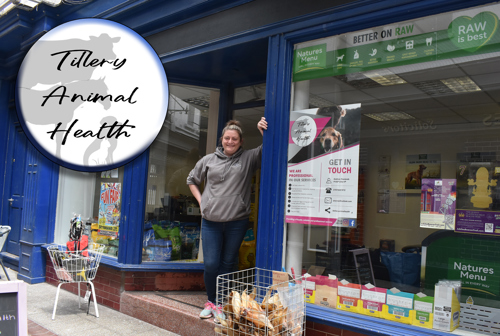 Siobhan, owner of Tillery Animal Health, at her shop in Abertillery Arcade.