In 2015, we introduced a free weekly collection for household batteries, which enables residents to put out their old batteries in a small clear plastic bag to be recycled.
Because many residents use this service, we want to make it even easier for them to recycle all they can from home. Therefore, we're offering to residents a free new small, reusable white bag to use to put out their batteries for us to collect, instead of using their own single-use plastic bags.
Between Monday 20 March and Friday 14 April, we've been delivering to residents an information leaflet telling them how to use this new service.
What are the benefits of introducing this new bag for residents' batteries?
• It will make it easier for residents to recycle more of their waste from home.
• It is safer to collect batteries separately from other materials. When batteries are recycled with other recyclable materials, such as plastics and cans, they can explode or cause fires, which is dangerous for our staff, causes damage to recycling processing equipment, and is bad for the environment.
• It will reduce our need for single-use plastic bags, which is better for the environment.
• When we recycle our batteries and they become new products, such as electronics or new batteries, we use less energy compared to using 'new' or 'virgin' materials to create these items, which reduces our carbon emissions and helps prevent climate change.
• It will be in-line with the advised approach for all recycling and non-recyclable waste collections across Wales set by Welsh Government, which will help us meet its target of recycling 70% of all our waste by 2025.
What should residents do?
1. Collect their new small, reusable white bag for batteries from their nearest Community Hub, which is located centrally in all local libraries managed by the Aneurin Leisure Trust. https://www.blaenau-gwent.gov.uk/en/resident/blaenau-gwent-community-hubs/
2. From Monday 17 April 2023, when residents need to get rid of any household batteries, they should put them in their new small, reusable white bag. (Residents should no longer use their own single-use plastic bags or any other container to put out their batteries for us to collect.)
3. Close the flap on their bag then place it next to – or between – their other recycling containers before 7am on their usual collection day.
4. Collect their recycling containers from their collection point once we've emptied them.
What types of batteries should residents put in their new bag?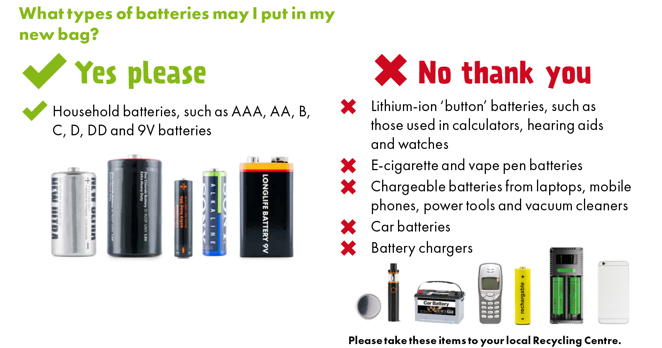 If residents have any questions about the battery collections service, they may click here to view our Frequently Asked Questions (FAQs).
If residents have any further questions that aren't answered in the FAQs, they may send an email to info@blaenau-gwent.gov.uk or call us on 01495 311556.
Residents' recycling is making a BIG difference in Blaenau Gwent. We thank them for continuing to do the right thing and for doing their bit for the environment, by sorting their waste and recycling what they can.
For more information about what can and can't be recycled in Blaenau Gwent, click here. https://www.blaenau-gwent.gov.uk/en/resident/waste-recycling/