Are you passionate about shaping young minds and making a positive impact on children's lives? Blaenau Gwent Social Services are proud to join hands with the 'We Care Wales' initiative, bringing you an exciting Early Years, Childcare, and Play Campaign that promises to inspire, empower, and transform.
Unlock Your Potential
Embark on a journey that leads to fulfilling career opportunities within the childcare sector. Dive into a world where growth, advancement, and rewarding experiences await.
Empowerment Through Nurturing
Meet our dedicated team of childcare professionals who are the heart and soul of our community. These passionate individuals are committed to nurturing young minds and paving the way for brighter futures.
Real Stories, Real Impact
Hear touching stories from parents, guardians, and children whose lives have been enriched by our childcare services. Discover the genuine influence and positivity that our programs bring to families.
Lifelong Learning
Experience continuous development with our tailored training programs and workshops. Be a part of a supportive environment that values your professional growth as much as the children's.
Remarkable Moments
Immerse yourself in powerful anecdotes, capturing the remarkable learning moments that our staff witnesses every day. Join us in fostering curiosity, growth, and wonder in every child we care for.
Connect and Engage
Follow our journey on social media platforms, including Facebook, Instagram, and Twitter. Visit our dedicated campaign page on the Blaenau Gwent website to explore success stories, testimonials, and valuable resources for prospective job seekers.
Join the Movement
Use the campaign hashtag #WeCareWales to join the conversation, share your experiences, and connect with a community that's dedicated to making a difference.
Month of Inspiration
The campaign will unfold over the course of one month, providing ample opportunities to engage, interact, and explore the world of childcare careers with us.
Are you ready to embark on a journey that nurtures both young minds and your career aspirations? Join us for an extraordinary month of discovery and empowerment with the 'We Care Wales' Early Years, Childcare, and Play Campaign.
Let's create bright futures together!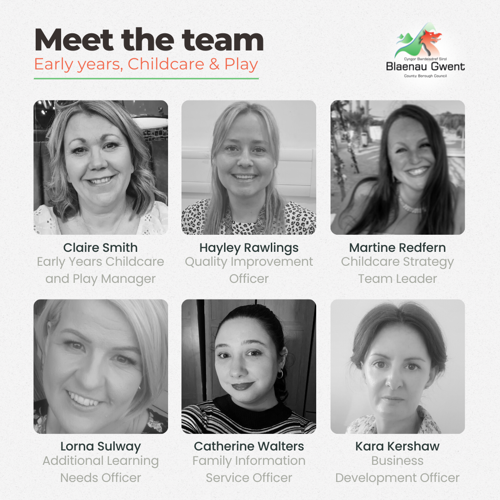 Testimonials
Martine Redfern – Childcare Strategy Team Leader
"My journey in childcare is a tale of resilience, mobility, and unwavering dedication. Through moves and life's twists, I embraced opportunities, put in the work, and rose. From NVQ levels in different regions to varied roles, I built expertise. My path led through nurseries, hospitals, and even a Cyprus classroom. I amassed skills, completed qualifications, and moved nations. Today, as a Childcare Strategy Team Leader, my passion remains as strong as ever, weaving support, learning, and the promise of brighter tomorrows for every child."
Lorna Sulway – Additional Learning Needs Support Officer
"From breastfeeding support to nurturing developmental growth, my journey in childcare has been a privilege. I've built a career rooted in compassion, evolving from a breast-feeding peer supporter to an Additional Learning Needs Support Officer. Every step, every qualification has fuelled my passion to ensure children, regardless of their needs, have the best possible outcomes. It's not just a job; it's my dedication to breaking barriers and offering every child their chance to thrive."
Hayley Rawlings – Quality Improvement Officer
"From a passion for children to a fulfilling career journey, I've embraced every step. Starting with a BTEC National Diploma in Care, I've built on my dedication through a BA(Hons) in Education Inclusion. Volunteering with additional needs children drove my purpose. I balanced university and motherhood, earning my degree a week after giving birth. With experience and a focus on growth, I achieved Level 5 Diplomas in CCLD Advanced Practice and Leadership. Progressing from nurseries to Home Start and eventually as a Quality Improvement Officer, I now ensure high standards in childcare while delivering training and supporting families. My journey's filled with rewards, learning, and making a difference."
Parent Statements 
"I was apprehensive about putting my child into a nursery, but I did some research and found Little Stars. From day 1 I couldn't have been more pleased with my choice. I now have 3 children and all 3 of my children have been at Little Stars. My children are respected, cared and loved as if they are with family. I feel like I've also become part of the furniture here and it has been wonderful to see them thrive under Little Stars care. It has been invaluable to me and my husband that we can drop our children off and never have to worry about a thing because they are truly looked after beyond measure. They continually run lovely seasonal events so the children always have something to look forward to. The selection of meals is fantastic and my children eat more at Stars than at home! I couldn't be happier with the service and would highly recommend (and do) to all my parent friends."
"I had to start back to work fairly early after the birth of my son and I was very nervous about sending him to any childcare facility, but after a lot of good reviews off friends I chose Little Stars. I am so happy with my decision! I was made to feel welcome on my first visit, everyone chatted to me and most importantly acknowledged and made a fuss of my little boy. I instantly knew this was where I wanted to send him. Each and every member of staff go above and beyond to make sure he has great experiences and lots of fun. My little boy has thrived since attending. Wonderful childcare setting that I am very thankful for!"
"My son is 3.5 years old and has been attending Little Stars Nursery since July 2022. My son has ALN and is on the Autism Spectrum. It's always concerning having your child attend a new nursery setting, however with Little Stars I was put at ease straight away. They have always paid close attention to my sons needs and although he is non-verbal there has never been any issues with communication from staff to him. My son absolutely loves attending Little Stars, he adores uncle Tom and Aunty Laura and I have always had an open relationship with the staff and they have comforted me on days that are hard for Elijah which has brought me anxiety. The environment at Little Stars is always comfortable and welcoming and more importantly safe. Natasha is always helpful and has given us support with any needs myself and my son. The nursery is a 5 star and I highly recommend it for children who have ALN because staff actually care, they offer advice and will make referrals to the correct organisations, which has helped us as a family massively. I cannot thank them all enough and if I could allow my son to attend for the rest of his life."