Blaenau Gwent Social Services Community Options team are really pleased to announce that this week will see the launch of their latest catering venture with the opening of a new community café based at Blaina Institute. Working in partnership with Blaina Community Institute Limited, the Social Care team, which is part of Blaenau Gwent County Borough Council Social Services, will be supporting adults with disabilities to secure placements within the Café as part of their day activity offer - giving the catering students an opportunity to develop invaluable life, social and future work skills within the world of catering and hospitality.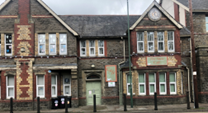 Mary Welch – Community Options Manager within Social Services said 'This exciting venture has given us an opportunity to work with a community group in Blaina so that we can breathe life into one of our historic Blaenau Gwent buildings alongside showcasing the catering talents of the staff within Social Care and importantly offering much needed work placements to those who access our support. This initiative has built on the development work we have already done within the Blaenau Gwent Community Meals Service, where we are offering afternoon teas and light snacks for delivery with traditional lunches for those people who are unable to prepare their own meals.'
Cllr Trollope – Cabinet Member for Social Services said – 'I am delighted to see Council and community partnership projects within Social Care. This way of working is critical in giving people who access social care services an opportunity to develop skills for life, alongside increasing their opportunities for future employment – hopefully this will be the first of many similar projects in Blaenau Gwent. I can't wait to visit the Café and try out their delicious cakes.'
The Stute Café within Blaina Institute will offer delicious home baked produce 4 days a week – Tuesday to Friday from 9am til 4pm and opens from Tuesday 5th September with a formal launch party planned in early October 23.
Blaina Institute, High Street, Blaina, NP13 3BN