Aspire Shared Apprenticeship Programme have been recognised by the Skills Academy Wales (SAW) for their outstanding partnership work over the past year and has been presented with the 'Special Recognition for Partnership Working' award. The award ceremony took place on 7th November 2023, at the Skills Academy Wales Neath Port Talbot Campus.
The award recognises partnership working, between two or more providers within Skills Academy Wales or a collaboration with external stakeholders. This demonstrates an impact within teaching, learning and assessment which enhances the learner experience and/or responds to skills shortages and employer needs.
Skills Academy Wales was established in October 2009 as the first Work-Based Learning Partnership of its kind in Wales. It was created in response to challenges outlined within the Welsh Transformation Agenda for Post-16 Education. The Partnership brought together a diverse range of outstanding and like-minded Work Based Learning providers. They continue to lead on these challenges by widening the options available for all learners and reducing costly duplication of provision.

Since 1st August 2010, the Partnership has been operating as a single contact with the Welsh Government. This is led by the NPTC Group of Colleges for the delivery of work-based learning programmes. The College currently holds one of the largest commissions with Welsh Government to provide the widest range of Apprenticeships in over 58 vocational areas, ranging from Level 2 to 5.
SAW currently delivers across a very diverse geographical area covering Gwynedd, Conwy, Denbighshire, Ceredigion, Pembrokeshire, Carmarthenshire, Swansea, Neath Port Talbot, Bridgend, Rhondda Cynon Taff, Merthyr Tydfil, Caerphilly, Blaenau Gwent, Torfaen, Flintshire, Wrexham, Powys, Monmouthshire, Newport, Cardiff and the Vale of Glamorgan.
Team Manager Connected Communities, Tara Lane, said:
"It is such an achievement to be presented with this award which acknowledges how the Aspire Programme recognises the importance of partnership work. I would like to congratulate the team on their dedication and commitment, especially when chosen amongst so many other outstanding partners within the Skills Academy Wales partnership group."
Aspire Blaenau Gwent were established in 2015 and the six strong Team specialises in providing the Manufacturing and Engineering businesses of Blaenau Gwent and Merthyr with apprentices. To date, they boast an impressive 100% record of apprentices being employed through the programme upon completion of their apprenticeship. The Aspire team have already been acknowledged for their outstanding dedication and apprentice record at the Apprenticeship Awards Cymru 2019 and 2021 where they won in the Large Employer of the Year category.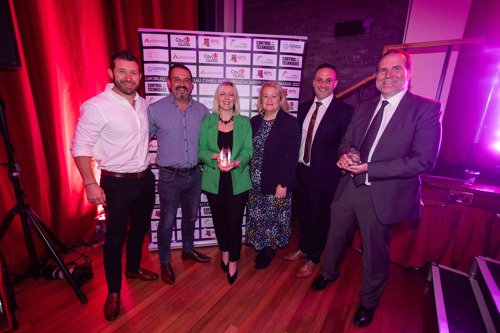 The Aspire Team after being presented with the 'Special Recognition for Partnership Working' award at the event.