When people ask us what is our nationality, the majority of us say Welsh but in reality not many people can speak the language. Many of us say we wish we could speak it but when your older it can take longer to learn another language.
A child can pick up the language far quicker than an adult. Welsh-medium Education is available to everyone. By choosing Welsh-medium education it gives your child the opportunity to become bilingual in Welsh and English.  
Welsh Government are committed to growing the Welsh Language and hope to achieve 1 million more Welsh speakers by 2050. To support this, they have made available funding via grants to Councils to provide access to Welsh-medium education.
The aim of this booklet it to answer questions, address concerns and state the advantages of being bilingual.
This booklet also maps a clear path for your child through the school years from nursery, to primary and secondary schools and beyond.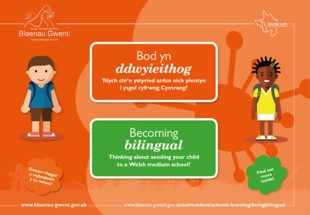 The Benefits of being Bilingual
Evidence base research has shown that being bilingual has many benefits, some of which are noted below:
Education:

Achieve higher in the curriculum and perform better in exams
Learning a second language at an early age helps children develop an ear for languages as they get older
Children in Welsh-medium education do just as well, if not better, in English as children in English Medium education.
Can improve brain power, keeping your brain healthy and sharp. It can improve your Child's multitasking skill, attention control problem solving and creativity.

Career:

Improves competitiveness in the job market
Extra skill to put on your application form

Bilingual people earn an average of 11% more

Life/Culture:

Increases awareness of other cultures
Raising children bilingually may help them acknowledge their culture and heritage as well as develop a strong personal identity.
Improve social life, speaking a second language opens up a whole new range of social opportunities and can enhance your social skills and confidence.

Health:

Recent studies have revealed that bilingual people's brains age more slowly and therefore they live longer and more satisfying lives.
The Education Journey
As a parent, deciding on your child's education will be one of the most important decisions that you will make. There are 3 types of school in Blaenau Gwent to choose from
A Welsh-medium school; (Curriculum taught through the medium of Welsh)
Faith Based school (Roman Catholic and Church in Wales); and
English medium school; (Curriculum taught through the medium of English)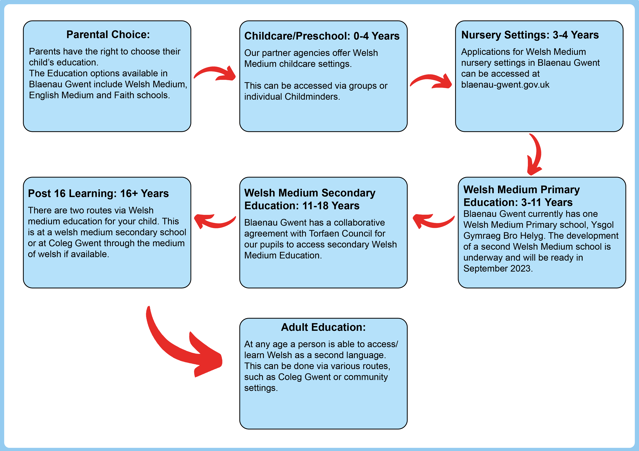 A child's resilience to learn a second language is easier the younger they are, however entry into Welsh-medium settings are possible throughout any point within their educational journey. Welsh-medium Immersions settings are being developed within Blaenau Gwent which will support a child to be immersed in Welsh Education prior to going in to the main classroom environment.
School Admissions
In the case of Welsh Medium Education, the admission authority (Blaenau Gwent Council) is responsible for placing pupils at Ysgol Gymraeg Bro Helyg. These pupils are then allocated a place at either the Blaina or Tredegar Campus by Ysgol Gymraeg Bro Helyg Leadership team and Governing Body.
News: Ysgol Gymraeg Bro Helyg will be opening a seedling provision in Tredegar from September 2023 for Nursery and Reception Pupils.
Key dates for School Admissions
Transport Requirements
Blaenau Gwent County Borough Council are more generous than the Welsh Learner Travel Measure. Free transport for statutory school age pupils is provided where the distance from home to school is over:
5 miles from home for children aged under 8 and
2 miles from home for children aged 8 years and over.
There is also free transport to nursery pupils over 1.5 miles to support Welsh Governments initiative to provide 1 million learners by 2050.
Pre school
You can start your child's journey to bilingualism from the outset. There are many pre-school settings for babies up to 3 year olds. The family information service (click here) can provide further information. However, the below are a few opportunities
Baby groups and baby massage
Cymraeg i blant For Parents - Meithrin– Mudiad Meithrin offers practical support for new parents on how to start introducing Welsh to their baby. As well as offering helpful advice on Welsh medium childcare and education the local Cymraeg i blant officer offers fun, free groups including baby massage, baby yoga and sign, story and rhyme sessions which are suitable from 0-18 months.
Cylch Ti a Fi - Mudiad Meithrin The Cylch Ti a Fi gives parents/carers of babies/young children the opportunity to meet once a week to socialise, share experiences about parenting skills, and to play together in an informal Welsh atmosphere. In the Cylch Ti a Fi you can enjoy making new friends, playing with toys, learn to sing simple Welsh songs and listen to Welsh stories with your child. For Parents - Meithrin
Cylch Meithrin / Flying Start is a Welsh-medium playgroup which offers your child an opportunity to socialise and learn through play under the guidance of professional and qualified staff. By attending the Cylch Meithrin your child will begin their journey to Welsh-medium education and will develop into a confident individual ready to take the next natural step into Welsh-medium education at school.Day Nursery/Childminder
Ask your local provider how they use Welsh in everyday activities.
The Flying Start Bilingual Journey
In 2023 and 2024 Blaenau Gwent will be opening 2 more childcare settings one in Tredegar and one in Ebbw Vale, these will be run via a private childcare provider to be determined in Autumn 2022.
As a parent If you do not speak Welsh, don't worry; the organisations who run playgroups welcome non-Welsh speaking parents who want to introduce their children to Welsh. Try to talk as much as you can in Welsh with your children. This will help them to speak naturally and confidently.
Ysgol Gymraeg Bro Helyg has full time Nursery provision and due to the nature of Welsh Medium, children are able to access the free home to school transport provided for statutory school age pupils.
Welsh-medium Primary school
Blaenau Gwent has one Welsh medium primary setting, Ysgol Gymraeg Bro Helyg in Blaina with another one opening in September 2023 as a seedling growth school in Tredegar for Nursery and Reception places. In Welsh medium education, Welsh is used for teaching the curriculum, however, both Welsh and English are taught as a subject. Welsh medium education immerses children in the Welsh language from the start.
Your child will speak Welsh in class and will be further encouraged to use Welsh when socialising and taking part in activities. This will provide them with more experience of Welsh in all aspects of life, improves the standard of their Welsh and ensures that they are fully bilingual.
All children who receive Welsh medium education will be able to transfer to Welsh medium secondary education regardless of the language used at home.
Welsh-medium Secondary school
Should you choose Welsh-medium secondary education, Blaenau Gwent does not have a Welsh-medium secondary school that could be access in the county borough, however Blaenau Gwent have secured secondary school places in Ysgol Gyfun Gwynllyw a 3-18 school.  your child will enter at year 7 and can continue their education until the end of Six form. Because your child went through Welsh-medium primary school they will be able to make a seamless transition into Welsh-medium secondary school.  
As in primary, Welsh and English are taught as individual subjects in Welsh medium secondary education. Welsh is also used as the medium of instruction for other subjects as well as the medium for extra- curricular activities. This way, the young person's bilingualism is sustained and developed further throughout his/her education developing their linguistic skills. At the key transition stage your child's primary school and secondary school will provide guidance and support to ease transition.
There are always opportunities for your child to use some Welsh at home, either via social media, or in their extra-curricular activities or watching TV. The aim is for young people to be as confident in both languages and to continue to take up Welsh medium opportunities after primary school. If a young person is bilingual at the age of 16 or 18, he/she can adjust extremely well to further studies through either language in any subject.
Post 16 education
Further Education:
Normally if your child is in Welsh-medium secondary they are able to apply to stay in the six form and undertake AS/A levels.
Should your child or you wish to continue in a college setting then there are opportunities in Coleg Gwent to study bilingually or through the medium of Welsh if available. There is a lot of investment via Coleg Gwent to improve opportunities for learners.
Higher Education:
Universities in Wales, the UK and worldwide welcome students who have studied their subjects through the medium of Welsh. It is possible to study an increasing number of undergraduate and postgraduate programs in whole or in part through the medium of Welsh at some Universities such as:
Teacher Training (primary education),
Physical Education,
Outdoor Education,
Youth and Community Work,
Early Years Care and education,
Primary education Studies,
Business and Religious Studies.
Universities provides support students who are unsure about studying through the medium of Welsh by providing Language Improvement programs on the campus and through apps and distance learning programmes.
Adult Learning
Coleg Gwent delivers courses in Blaenau Gwent, Caerphilly, Monmouthshire, Newport and Torfaen on behalf of the National Centre for Learning Welsh. They run a variety of courses - from programmes combining classroom and online study to weekly night classes and intensive learning.
Frequently asked questions:
But we don't speak Welsh!

With parents who don't speak Welsh in the majority, you'll find well established support systems in both Welsh and English in our Welsh medium schools.

What about their English language skills?

When children leave Welsh medium primary school, they are fluent in Welsh and as fluent in English as children from English medium schools.

Why Welsh medium education?

The quality of education is excellent, it's easy to learn a language from an early age and children enjoy their lives in English and Welsh!

But my child has already started their education journey in an English medium school?

Children can begin in a Welsh Medium primary school at any point. Our schools have specific immersion units where pupils can be immersed into the Welsh language before entering the classroom.

How can my child get to our local Welsh medium school?

Blaenau Gwent provide free school transport for pupils with a home address 1.5 miles or more from the nearest Welsh Medium primary school, and 2 miles or more from the nearest Welsh medium secondary school.

Will I be able to help my child with their Welsh homework?

Yes, as most children don't speak Welsh at home, Welsh-medium schools are very experienced in supporting both pupils and parent the school will provide the work in English and Welsh.

 

For younger pupils, homework instructions will be given in writing in both English and Welsh. At a later age, children will be able to explain their work to their parents themselves. In fact, research suggests that dealing with their work in two languages can actually help children understand the subject that they are studying. The Welsh Government education Hwb website also gives access to a range of nationally provided digital learning tools and resources.
Related Documents
paper_3_-_prof._colin_baker-English.pdf (senedd.wales)
The Advantages of Bilingualism in Welsh and English (senedd.wales)