Mega Drive Logo
Road Safety Advice for Young Drivers, Passengers & Pre-Drivers
Megadrive is a pre driver training programme delivered to 16 to 18 year old students who may be planning on sitting their practical driving test in the not too distant future and may not be aware of all the potential hazards that come with driving on British roads.
The scheme is organised by the Blaenau Gwent Road Safety Team and funded via a road safety grant from the Welsh Government. 
For some students it could be there first experience of driving a car and this course  will allows them the confidence to get behind the wheel and give serious consideration to learning to drive.
What happens at Mega Drive?
Students participating in Mega Drive visit "interactive workstations" where they learn vital information on driving related topics. 
hazard awareness 
crash causation 
effects and consequences on the fatal five

drink driving
drug driving
speeding
using a mobile phone and driving
dangers of not wearing a seatbelt.
what to do at the scene of a crash 
practical driving session with an Approved Driving Instructor

These workstations are delivered by a variety of organisations such as:
Heddlu Gwent Police 
South Wales Fire and Rescue
Approved Driving Instructors
Blaenau Gwent Road Safety Team and local authority partners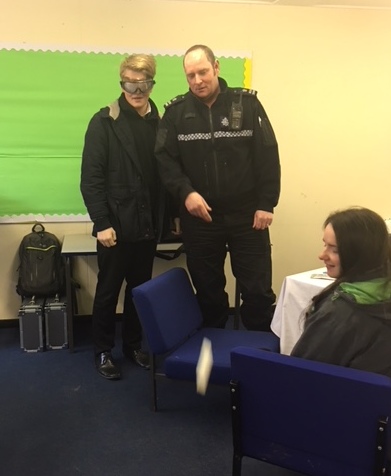 Student and Police Officer
Related Documents
Contact Information
Traffic Safety Officers
Civic Centre,
Ebbw Vale,
NP23 6XB