Play Sufficiency Assessment 2022
Blaenau Gwent County Borough Council is inviting parents, childcare providers, co-ordinators and those with an interest in childcare locally to comment on the draft Play Sufficiency Assessment 2022.
All  comments to be emailed back to Sharon.cargill@blaenau-gwent.gov.uk by Wednesday 31st August 2022.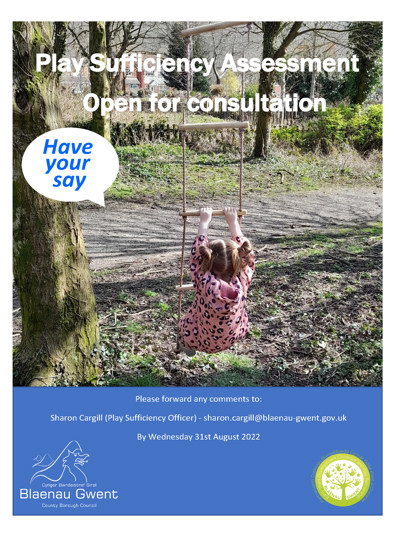 Our aim is for Blaenau Gwent to be a County where children are increasingly seen outside enjoying the benefits of play. We have an amazing environment in Blaenau Gwent that is conducive with children's play and we want to encourage a play friendly environment which provides time, space and permission for children to play. This will need parents, families and professionals in the community to recognise that play is of great importance in children's present lives and for their future development. We wish to promote positive attitudes towards children's right to play freely in their communities. 

The Play Team works with partners to deliver a wide range of play opportunities for children and young people.  Our Family Information Service can give up-to-date information about play and leisure opportunities available in different areas of the County Borough. 
Play in Schools 
We are keen to offer rich play environments that best meet the play needs of children and young people of Blaenau-Gwent within their school environments, both for in school and out-of school purposes. 
The Play Team support schools across Blaenau Gwent to assess and develop their play opportunities through guidance and provision of training. 
Play in the Community 
The Play Team is keen to encourage local communities to actively engage with opportunities to promote play.  There is guidance and training available for developing ideas and community groups.  Please contact the Play Sufficiency Officer on 01495 355576.
Related Documents
Contact Information
Name of Team: Early Years Childcare and Play Team
Telephone Number: 01495 355584
Address: Heart of the Valleys Integrated Childrens Centre, High Street, Blaina, Blaenau Gwent, NP13 3BN
Email Address: Claire.smith@blaenau-gwent.gov.uk