In 2013, Welsh Government introduced the Active Travel (Wales) Act with the aim of increasing peoples' daily physical activity, boosting wellbeing and reducing the reliance on cars for short, purposeful journeys. 
All local authorities in Wales are legally required to encourage walking and cycling as a preferred travel mode for purposeful journeys within short distances. 
Local authorities must design and deliver suitable routes for active travel within and around their settlements, providing safe and accessible routes for pedestrians, wheelchair users and cyclists.
Please watch our animation to find out more information on active travel.
Glyncoed North/South Link
Please see below some pictures of the work that has been completed on the Glyncoed North/South Link. Designs are underway to extend the route further South.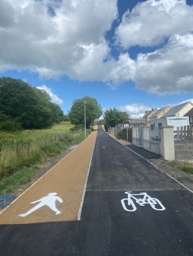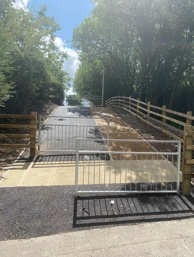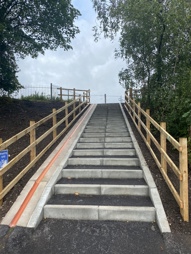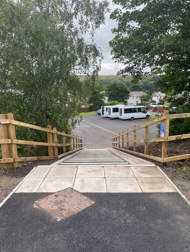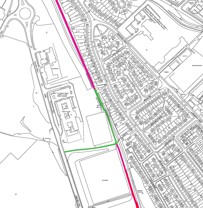 Ongoing improvements
This year we are working on improving the Active Travel route east of Ystruth Primary School.
During September we will be working with Living Streets to deliver their WOW project within 8 Blaenau Gwent Primary Schools, for more information on this project please visit: WOW, the year-round walk to school challenge 
What are short, purposeful journeys?
An active travel journey is one that someone on foot or by cycle can take to carry out an everyday task, such as:
Walking or cycling to school
Walking or cycling to work
Walking or cycling to the local train or bus station to catch the train for an onward journey
Walking or cycling to the local shop/pharmacy/Post Office
What is Blaenau Gwent CBC doing about Active Travel in the community?
In 2021, the council has worked alongside Sustrans and other partners to develop its Active Travel Network Map, including developing and improving new and existing routes.
These routes include:
Bryn Bach Park – Garnlydan
Tredegar Town Centre - Harford Gardens
Ebbw Vale Hospital - 3-11 School
Beaufort – Nantyglo
Brynmawr - Blaenavon
Six Bells – Aberbeeg
Llanhilleth Station - Royal Oak
Royal Oak - Swffrydd-Crumlin
We want to make active travel a normal part of everyday life; walking or cycling for our short journeys, instead of taking the car, is healthier for us and great for the environment too.
Let's makes Blaenau Gwent a better place to live, work and visit, for ourselves and future generations.
If you would like to get involved and help develop your local active travel network the please contact Kathryn Childs - Partnerships & Engagement Support Officer (Active Travel) kathryn.childs@blaenau-gwent.gov.uk or visit this page for future updates.