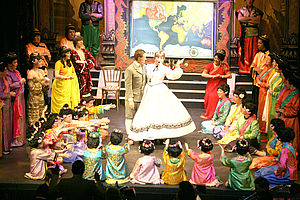 Beaufort Theatre Show
Beaufort Theatre hosts a wide range of performances and events throughout the year as well as arts activities and workshops. It is the number one venue in Ebbw Vale for drama, dance, live music and children's events.
For a full list of events visit http://ffindance.wwwnlssr4.supercp.com/the-beaufort-theatre/ or call Box Office on 01495 305988/07854 910926.
Contact Information
Economic Development
Telephone Number: 01495 355937 or 07968 472812
Address: The General Offices, Steelworks Road, Ebbw Vale, Blaenau Gwent. NP23 6DN  
Email Address: alyson.tippings@blaenau-gwent.gov.uk