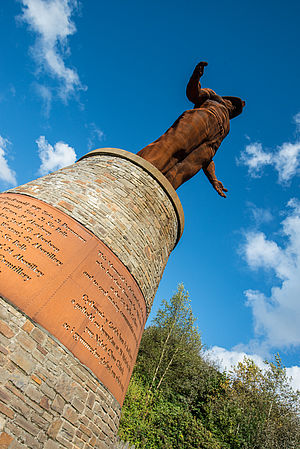 Guardian of the Valley
Completed in 2010, Guardian was commissioned to commemorate the 50th anniversary of the 1960 mining disaster in Six Bells that claimed the lives of 45 men.  The amazing 20 metre sculpture towers over the site of the former colliery where the tragedy occurred and is a fitting tribute to the men whose names are cut into panels wrapped around the memorial plinth.
Designed and created by artist Sebastien Boyesen, the sculpture is constructed from over 20,000 strips of Corten steel welded together to create a stunning monument that stands proudly on a sandstone plinth.  The detail that has been created using this remarkable technique allows for the incredible facial features, muscle definition and hair to be clearly visible; and even the trousers appear soft and flowing even though fabricated from steel. 
Viewed from a distance the figure of the miner has a transparent, almost ghostly quality, allowing it to blend into the heavily wooded landscape setting. Only when viewed up close, does the figure appear solid and the true presence of Guardian can be fully appreciated. 
Guardian was dedicated as part of a Commemoration Service on the 28th June 2010 led by the Archbishop of Canterbury Reverend Rowan Williams, and later in November 2011, HRH Prince Charles visited Guardian and Ty Ebbw Fach. 
Ty Ebbw Fach has a heritage room detailing the history of Guardian, Six Bells Colliery and the village of Six Bells. It also houses a small café serving delicious, homemade hot and cold refreshments. 
Guardian sits in Parc Arael Griffin, one of 14 environmental sites on the Ebbw Fach Trail and three of the Tyleri Trails also start from this point.
Contact Information
Name of Team: Economic Development
Telephone Number: 01495 355937 or 07968 472812
Address: The General Offices, Steelworks Road, Ebbw Vale, Blaenau Gwent. NP23 6DN  
Email Address: alyson.tippings@blaenau-gwent.gov.uk