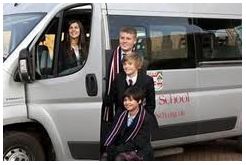 Transport for primary school children living two miles or further (1.5 miles for under 8s) from the nearest suitable school is free.
The Welsh Government's Learner Travel (Wales) Measure 2008 sets out school travel policy for Wales.
Provision of free transport
(Free transport is generally restricted to pupils of statutory school age who attend their catchment area schools and live the necessary distance from the school.  The distances quoted are subject to review up to the statutory limit. 
Under 8 years of age - if living more than 1.5 miles from school. (Statutory limit 2 miles).
8 years of age and over - if living more than 2 miles from school. (Statutory limit 3 miles).
Distances are measured by the shortest walking route between home and school using the GGP Digital Mapping System as recommended by Welsh Government.  In some cases it is not possible to arrange the routes of vehicles to pass close to the home of a pupil. Therefore, it may be necessary to make arrangements for them to reach the nearest pick-up point of the vehicle. Every effort is made to keep this distance as short as possible and it should not exceed one mile.
Pupils attending the nearest Voluntary Aided School currently receive free transport in accordance with the above.  
Nearest suitable school
Transport will be provided to the nearest suitable school, subject to distance limits. The nearest suitable school is deemed by the Council to be one which: 
Provides education for the relevant age of a pupil, and is nearer to the pupils home address than the catchment area school;
Is the nearest school to meet the language preference in accordance with the Council's policy on Welsh medium education;
Is the nearest school to meet the denominational preference 
Hazardous routes/Danger Grounds 
Free transport may be provided where the Council is satisfied that the route between home and school is sufficiently, dangerous to warrant such provision, even though the distance is under those quoted above. In doing so the Council will have regard to the criteria set out in the Welsh Government Learner Travel Statutory Provision and Operational Guidance (June 2014) 
Transport to Nursery Schools/Units
Children who are not of statutory school age who attend a nursery school or unit would not normally be eligible to receive free transport.  
Spare Seats
Pupils may be allowed to occupy spare seats on school buses on a short term basis even though they do not satisfy the criteria referred to above. Examples of this may be serious illness of a near relative e.g. mother/father.  All applications will need to be accompanied by a doctor's note and a letter outlining their reasons for such a request. No charges are currently imposed by the Council for providing transport in such cases. Concessions may have to be withdrawn at short notice.
Other Expenses
Expenses incurred in travelling to and from school are not reimbursed.
Moving Home
Pupils who move home to an address outside the catchment area of the school attended will not normally continue to be provided with free transport to that school if  the move takes place during years 7, 8 or 9 of education at that school even if the criteria stated above are met. Applications for pupils moving home in the fourth or subsequent year of attendance will be considered only if transport can be provided by the use of a season ticket or by existing services.
Private Schools
Free transport is not provided for pupils attending private schools.
Parental concerns or queries in respect of transport should be referred to the school or the Education Department. The Council has no legal responsibility to provide free transport to pupils who are not of statutory school age.
School transport contact number 01495 355435. 
Post 16 Learning 
Transport Entitlement
All students living in Blaenau Gwent will be provided with a discounted bus ticket or travel grant to the Blaenau Gwent Learning Zone, Ebbw Vale Campus as their designated  Post 16 provider or the nearest institution where their course is available depending on the following criteria:  
students must be between the ages of 16 to 19 (under 19 prior to the 1st September of the commencement of their course) to qualify;
students shall reside in the County Borough of Blaenau Gwent; and,
students must reside 2 miles or over (nearest walking distance) from their nearest school or college campus; and, the students should attend a full time course which requires attendance of 16 or more hours per week or a minimum 4 days attendance per week at the institution. 
Students and pupils aged 19 or over at the commencement of their course are not eligible for travel assistance from the Council and in these circumstances they are advised to contact their respective college for details of any available transport provision. 
Travel Grant
The Council will provide travel assistance to those who meet the criteria up to a maximum of £150 per academic session. This will be paid per term as follows: £50 Autumn, £50 Spring and £50 Summer. 
Discounted Bus Pass – Coleg Gwent
For those students who attend Coleg Gwent, the student has the option of a discounted bus ticket to travel on Stagecoach buses to and from their nearest institution where the course is available. The Council, on behalf of the learner, pays a contribution towards the purchase of a discounted bus ticket directly to Coleg Gwent, who administer the scheme.
Under the arrangements students will be required to contribute £50 each term towards the cost of the discounted bus ticket and the Council will pay this money directly to Coleg Gwent. The level of the travel grant provided by the Council is annually reviewed and therefore is subject to change.
Students at Coleg Gwent can use their discounted bus tickets to travel at a reduced rate 7am to 7pm Monday – Friday, with an additional late pass being available from the college for students who need to travel after 7pm (Monday -Thursday). Term times only. If you need to change buses during your journey then the ticket purchased on the first bus that you board should be retained. This ticket will then be valid for free travel on any subsequent journeys for boarding within 90 minutes of the ticket being issued when you present it to the driver.
Across all of Home to School Transport provision and post 16 learning, the Council operates A Code of Practice for pupils, students, parents, schools and transport operators. 
Related Documents
Contact Information