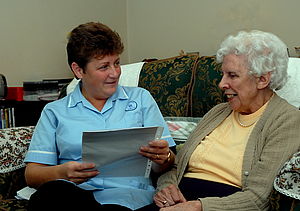 What is Home Care?
The Home Care service provides support for individuals with their personal care e.g. toileting, getting up/going to bed and meal preparation.
The aim of Home Care is to ensure people's independence is maintained.
Home Care may be provided by Local Authority or Independent Sector staff, depending upon what is required and when it is required.
Who can receive the service?
The Service can be provided to families with young children, as well as to adults in their own right.
The majority of service users are elderly people living on their own or being cared for by an elderly spouse.  However, the most important thing is to ask for an assessment of your needs, to see whether you may be entitled to some help.
How do I get an assessment?
You need to contact Social Services or ask someone to do it for you.  This can be by telephone, letter or by visiting our office.
If I receive a service, what information will I get?
If a service is to be provided, you will receive: 
An Individual Service Plan which will describe how we will help you and the time/s allocated.
The name of your regular Home Carer.
How to contact your Home Carer's Manager.
The name of your Care Manager.
How to notify changes in your circumstances or requirements.
What to do if you do not require the service.
How to raise concerns or make a complaint.
How much you will be required to contribute.
Can I choose who provides Home Care?
Currently, the majority of Home Care is provided by the Local Authority's own staff. We also use independent sector providers, all of whom work to the same regulatory standards as our own staff – so you can rely on a professional service, whoever actually delivers it.
Should you have any concerns with the Carer providing your care, you will need to contact your Home Care Organiser who will look into your concerns and should there be a need to change carer will try to match the right carer with yourself.
Will I have to pay?
If you are provided with a service, following assessment, we will see whether you are able to make a contribution towards the cost of your service.
What can I do if it goes wrong?
If you are unhappy about the service, you can either:
Complain to the Service Provider.
Complain to your Care Manager.
Contact the Complaints Officer based at the Social Services Department's Headquarters.
If you would like to know more about the Home Care service please contact:
Family Resource Centre
Beaufort Road
Ebbw Vale
NP23 5LH
Telephone: (01495) 357880
Contact Information
For information, advice or assistance, to make a referral or report concerns in relation to:
a person aged 18 or over, please contact the Adult Services IAA Hub
a child or young person, please contact the Children's Services IAA hub.
Telephone: 01495 315700
Email : DutyTeamAdults@blaenau-gwent.gov.uk
Fax: 01495 353350
For general information enquiries:
Email : info@blaenau-gwent.gov.uk

Headquarters:
Social Services Directorate
Anvil Court
Church Street
Abertillery
NP13 1DB
Telephone: 01495 354680
Fax: 01495 355285