Town Cente Loans
Interest free loans are now available for commercial properties in
Blaenau Gwent.
Loans are available to improve empty and underutilised properties to bring them back into productive use.
Loans may also be utilised to acquire property, for Further information E-mail :- regeneration-projects@blaenau-gwent.gov.uk
Mobile No - 07790545307 Karen Williams
Mobile No - 07580858576 Amanda Phillips
Subject to affordability checks and the Council applying a necessary legal charge.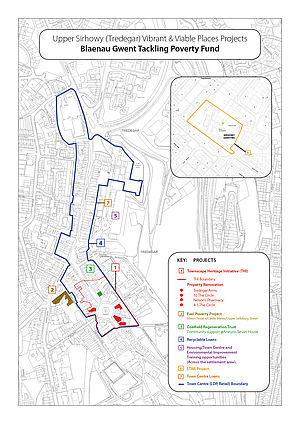 Upper Sirhowy (Tredegar) Vibrant & Viable Places (VVP)- Blaenau Gwent Tackling Poverty Fund
Vision
The project sets out the vision that everybody in Wales should live in well-connected vibrant, viable and sustainable communities with a strong local economy and good quality of life.
The key message of the project is that partners from across the private, public and third sectors need to work together to obtain the maximum regeneration benefit from all investment programmes.
Key aim
To tackle poverty by creating jobs, encouraging skills development, improving housing, providing facilities and helping people into work.
Tackling Poverty Projects
Blaenau Gwent County Borough Council has received funding from the Welsh Government as part of their Vibrant and Viable Places Tackling Poverty Fund to deliver the following projects:
Tredegar Townscape Heritage Initiative (THI)
£350,000 has been secured as match funding towards the implementation of the Tredegar Townscape Heritage Initiative.
Housing Improvement - Fuel Poverty Project – Tackling Poverty Fund Contribution £150,000
A figure of £50,000 has already been spent on energy efficiency measures such as boiler replacements and the installation of gas central heating in Castle Mews and vicinity. Working in partnership with private landlords there is further £100,000 of targeted funding to undertake roof works on properties in Upper Salisbury Street that have received other improvement works such as insulation and boiler replacements, thereby resulting in a more comprehensive improvement project.
STAR Community Centre - Tackling Poverty Fund Contribution £160,000
Located in the heart of Sirhowy a new community centre on a proposed residential development by United Welsh Housing Association will accommodate Sirhowy Tenants and Residents (STAR) who currently provide a range of activities and support to a variety of people. The new facility will allow the STAR to continue to provide these services which will continue to benefit the community.
The total funding of £160,000 includes £40,000 from the Training via Housing, Town Centre and Environmental Improvements Project which has been ring-fenced for the supply of materials to enable trainees to participate on project implementation at the proposed Sirhowy Tenants and Residents Community Centre.
Community Support @ Aneurin Bevan House (£85,000)
BGCBC is working with the Coalfield Regeneration Trust (CRT) on a Community Asset Transfer of Aneurin Bevan House to develop a multi agency facility which will provide a range of inter connected and complementary services for individuals and businesses. The project will be delivered in partnership with tenants, partners and the community. The project will contribute to the social and economic regeneration of Tredegar Town Centre and present a model which may be rolled out across the County Borough and wider.
The following CRT activities/proposals will operate from Aneurin Bevan House to support and address the Welsh Government Anti Poverty Agenda.
Employment and Training advice and support via the Coalfields Regeneration Trust EU funded Family Employment initiative.
CRT grants advice and support services.
Social Enterprise Business development advice and support.
Credit Union services.
Debt Advice and Support.
Micro loan finance services.
Game On personal development support for young people.
It is proposed to use £85,000 VVP funding to undertake modifications to Aneurin Bevan House in order to accommodate the delivery of the services listed above.
Training via. Housing, Town Centre and Environmental Improvements (£90,000)
The project will develop a partnership between the Council, RSLs, Communities First, Tredegar Business Forum, & Coalfield Regeneration Trust to provide training for unemployed and workless households. Building skills required for property renovation and environmental works have been identified which complements all the VVP project proposals.
The majority of VVP projects relate to physical regeneration works which provide the opportunity to train people in working on buildings. Typical works include painting, decorating, plastering, building renovation/ repairs etc.
The project complements the LIFT project run by Communities First for the benefit of workless people, and it will serve as a stepping stone to progression to further training as part of the social clauses attached to the procurement of property renovation projects within this overall programme.
Ashvale Neighbourhood Environmental improvements (£10,000)
A £465,000 joint project between Tai Calon, Blaenau Gwent Council, and local residents is being undertaken at Ashvale which falls within the Communities first cluster area of Tredegar & Sirhowy which has been set up to tackle poverty and support people in the most deprived areas of Wales. An area of wasteland is being transformed into a community garden together with provision of a play area for children, better parking and new boundary fences. Local people will be able to pick the fruit to cook with or eat from trees in their own community orchard.
In addition, the proposal aims to enhance the access from Ashvale neighbourhood through to Parc Bryn Bach Country Park, to clean and clear the route and construct an all-weather, all-user route that not only connects the neighbourhood with the park but also the local primary schools of Bryn Bach Primary and St Joseph's Primary and enhances the route in terms of biodiversity and public perception.
£10,000 of VVP funding will be spent on creating a path to link to other paths in the area to complete the linkage between Ashvale, Parc Bryn Bach and local schools.
Another partner in the project is Green Shoots, which is funded by Blaenau Gwent Social Services - Community Options.
The aim of Green Shoots is to provide work and training opportunities for people with a disability in areas of horticulture and ceramics and working within the local communities. It is proposed that service users are involved in the planting phase of the project being delivered by Tai Calon and Blaenau Gwent Council's Green Infrastructure Team.
Recyclable Loans (Residential)*
"To improve dwellings that are in need of renovation/repair"
£400,000 has been secured to provide loans to owner occupiers and the private rented sector to improve properties in Tredegar Town Centre that are in need of renovation/repair.
The loans are to be used to enable a property to be warm, safe and secure and can be used in conjunction with other grant funding (i.e. as match funding for any residential works as part of Tredegar Townscape Heritage Initiative) but there will be no 'double-funding' of project works.
Town Centre Loan Scheme*
£714,000 has been secured to provide loans to reduce the number of vacant, underutilised and redundant sites and premises in the town centre and to support the diversification of the town centre by encouraging more sustainable uses for empty sites and premises, such as residential, leisure and for key services.
*These are loans and not grants and as such will be subject to repayment. The repaid loan money will be recycled so additional properties can be improved and brought back into use.
Related Documents
Contact Information