Big Bocs Bwyd school shop comes to Ebbw Vale
The first 'Big Bocs Bwyd' scheme in Blaenau Gwent was officially launched at Willowtown Primary School in Ebbw Vale today.
The scheme, which is a modified shipping container turned into a school shop, means children and families at the school, as well as members of the local community, will be provided with food items and only asked to pay what they can afford. They will also be supported with authentic learning experiences through growing and cooking food. Currently, the shop will open on a Monday and Wednesday, with plans to hopefully extend this.
Schemes like Big Bocs Bwyd can be a lifeline for families that are struggling and for those who have also found themselves having to make tough decisions as a result of the Cost of Living crisis in the UK.
The school and Blaenau Gwent Council have worked closely together to get Big Bocs Bwyd up and running. Today, Blaenau Gwent Council's Presiding Member Cllr Chris Smith officially launched the scheme, joined by guests and pupils.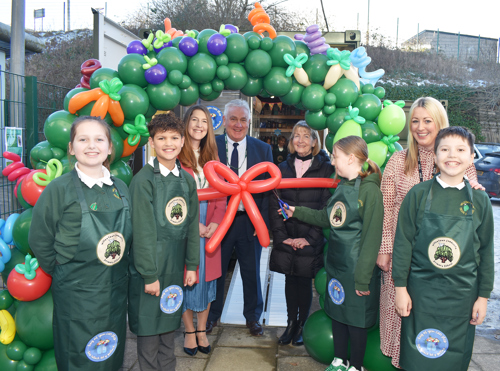 Over the last few years, the school has supported families by setting up a school Foodbank, and see this as the next step.
Headteacher Mel Evans says:
"We are thrilled to have been successful in our application to host a Big Bocs Bwyd at our school. We see this as an opportunity to not only build on our school foodbank, but to evolve and become a purposeful facility for our school and indeed members of the Willowtown and Ebbw Vale community.
"The Big Bocs Bwyd will become an integral part of our INSPIRE curriculum here at Willowtown, where children will learn about food cycles, food literacy, food waste and indeed sustainability. Every class will be responsible for growing produce in our school garden, and every class will also be involved in the running and organising of our shop.
"The project also encompasses Curriculum for Wales and the 4 Purposes: Healthy, Confident individuals. Ethical, informed citizens. Ambitious, Capable Learners. Enterprising, Creative Contributors.
"Thank you to everyone at Blaenau Gwent who has supported the project, along with a huge thanks to our Big Bocs Bwyd staff team and parent volunteers. Our Young Ambassadors and Mrs Dobbs, (Family Engagement Officer) have worked tirelessly to prepare for our opening day.
"We look forward to sharing our Big Bocs Bwyd journey with you, and we hope that you will support us as we flourish and grow."
Councillor Sue Edmunds, Blaenau Gwent Council's Executive Member for People & Education says:
"This is a fantastic scheme, which in the current financial climate could prove to be a lifeline for many local families who are having to make difficult choices about their household finances and lifestyles. No child should be hungry, and schemes like this mean they are able to provide a decent, nutritious home cooked meal. It will also provide them with the skills and knowledge to make infirmed healthy food choices throughout their lives.
"The Cost of Living crisis is a top priority for the Council and we are doing everything we can to support our communities at this time. Our schools are really at the coalface when it comes to seeing the impact of poverty on our children and young people and how it can affect their learning, and I know are doing all they can by working with partners to provide support.
"Well done to everyone involved with securing this scheme for Willowtown."
Chair of Governors, Sian Barrett says:
"During lockdown we found food parcel deliveries were needed by many of our families and our support staff helped to distribute parcels. We found that helping our community in this way helped us to further develop our strong community links. Then we heard of this Welsh Government initiative that helped to provide affordable food to families and which educated children in living a more sustainable life.
"The shop will be stocked regularly using surplus food from "Fareshare Cymru", who work with local supermarkets, and will work on a "pay what you can" basis. The more food we sell the less ends up in landfill doing our bit to help the environment. Our children will be helping in the shop and will also be growing vegetables in raised beds and having cookery lessons as part of the project.
"We have an amazing group of volunteers working with our staff who will support this project."
Find out more about Big Bocs Bwyd here - https://www.bigbocsbwyd.co.uk/